15 april 20.30 Biljetter>>>
och
17 april 14.00 Biljetter>>>
Biograf Panora
Manu besöker sitt barndomshem inför sin mors födelsedag. Återseendet av familjen ger en våg av minnen från det förflutna i den dysfunktionella familjen; en syster som lider av schizofreni, en frånvarande far och en mor som försöker balansera mellan allas behov och undvika konflikter. Ett psykologiskt drama som skildrar konfrontationen mellan friskt och sjukt, mellan det vi rationellt förstår och det vi känslomässigt måste hantera men ibland inte förmår. Det handlar om föräldraskap, systerskap, kärlek och frustration och om förtroendet för psykiatrin.
Audrey Estrougo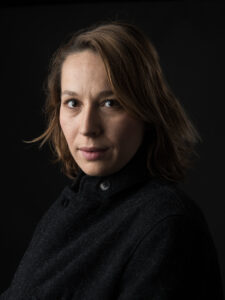 Film director and screenwriter, born in 1983 in Paris, France. Presented her first feature, Ain´t Scared, at Berlinale in 2008. Jailbirds (2016) with Sophie Marceaux was a great success. By your side (À la Folie) is her fifth feature. Herself having a brother with schizophrenia, she is also the screenwriter in this and her other films.
Original title: À la folie Director: Audrey Estrougo Writer: Audrey Estrougo Country: France Year: 2020 Runtime: 82 min
Genre: Drama Language: French Subtitles: English Distr.: Damned films