PANORA 10 APRIL 16.00
Visas före THE BABUSHKAS OF CHERNOBYL
Kathereh Jalilzadeh, Irans första kvinnliga
ninja, var den första kvinnan i Iran att utöva
kampsporten ninjutsu. I hjärtat av Teheran
samlas hon och ett stort antal unga kvinnor för
att utöva en sport som inte bara handlar om
att lära sig att försvara sig utan lika mycket, om
inte mer, om frihet och att krossa de patriarkala
strukturer som håller dem tillbaka.
Director Marjan Riahi Country Iran
Original title Iranian Ninja
Language Farsi, English Subtitles English
Year 2014 Runtime 28 min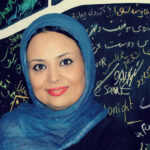 MARJAN RIAHI (IRAN) is a filmmaker, screenwriter
and journalist. She studied communication
and journalism at Azad University. After
graduating in movie directing at the Iranian
Young Cinema Society, she became the founder
and owner of Short Film News, the first news
network on short films and documentaries in
Iran & Asia. Iranian Ninja, which is her first
documentary film, has been screen and awarded
all over the world.