Saturday 4 february 2023, 20:30 hrs.
Biograf Panora
>> Click here for tickets
Pregnant, 16-year-old Camille is placed in a home for teen mothers by a family court judge. While she rebels against the decision, it allows her to experience life away from her loving but overbearing mother. She strikes up a friendship with Alison, another rather immature underage mother and rebels against the social worker Nadine, a passionate, albeit blasé authority figure. These encounters will radically change her destiny.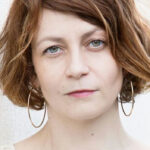 Julie Lerat-Gersant was born in Caen in 1983. After studying theater at the Ecole Supérieure de Théâtre, she was co-cofounder of the theater company La Piccola Familia in 2006. Since then, she has been working as an actress and playwriter. Little ones is her feature film debut, and was selected to compete in the "Filmmakers of the Present" at the 75th edition of Locarno Film Festival.
Original title: Petites
Director: Julie Lerat-Gersant
Writer: Julie Lerat-Gersant
Country: France
Year: 2022
Runtime: 90 min
Genre: Drama
Language: French
Subtitles: English
Distr.: Be For Films