PANORA 8 APRIL 18.30
SHORTS & CHAMPAGNE
A young Ghanaian man struggles to reconcile
the love for his mother with his love for another
man amid the increased tensions incited by
same-sex politics in Ghana. Focused on a letter
filled with hesitation, Reluctantly Queer both
disrobes and questions what it means to be
queer for this man in this time and space.
Director Akosua Adoma Owusu Country
USA, Ghana Original title Reluctantly
Queer Language English Subtitles English
Year 2016 Runtime 8 min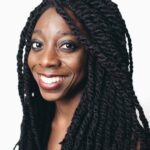 AKOSUA ADOMA OWUSU (USA/GHANA) is
an avant-garde filmmaker and producer whose
films have screened worldwide in prestigious
film festivals, museums, galleries, universities
and microcinemas since 2005. She holds
Master's of Fine Arts degrees in Film & Video
and Fine Art and a Bachelor's degree in Media
Studies and Studio Art. Reluctantly Queer was
nominated for the Golden Bear and Teddy
Award at the Berlinale in 2016.