15 APRIL 13.00 at Grand Öl & Mat
Short film package: BREAKING BOUNDARIES
Free entrance!

---
Grands Sunday brunch is served between 11:30 – 14:30 for 185sek.
The film screening starts at 13.00!

---
3 SIBLINGS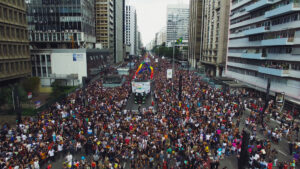 Director Sheena Rossiter Country Brazil, Canada Original title 3 Irmãos Language Portuguese Subtitles English Year 2017 Runtime 22 min
Three siblings with different gender identities bring us into their world during São Paulo's LGBT Pride Month. We learn about their relationships with each other, and how they work to overcome rampant homophobia and transphobia that exists in Brazil.
---
RAHA


Director Yeganeh Balouchi Country Iran Original title Raha Language Persian Subtitles English Year 2017 Runtime 17 min
A 15-year-old girl finds out that she's pregnant and is desperate to find the money for an abortion. We follow her through her challenges during one day in Tehran. In a patriarchal society that refuses to accept her and what she has done.
---
REBELLIOUS ESSENCE


Director Ana Čigon Country Slovenia Original title Uporni duh Language English Subtitles English Year 2017 Runtime 5 min
A cat walks into the Office of the Ministry for Cat Affairs and requests for a passport. All goes pretty well until the female and male cat clerks demand to know the cat's gender.
---
GAZE


Director Farnoosh Samad Country Iran, Italy Original title Negah Language Persian Subtitles English Year 2017 Runtime 14 min
On her way back from work a woman witnesses something happening in the bus and she has to decide if she reveals it or not.
---
MONDAY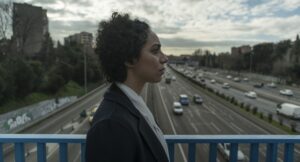 Director Candice Vallantin Country Spain Original title Monday Language No dialogue Subtitles None Year 2017 Runtime 8 min
Crushed by the tedium of her daily routine, a business woman takes a leap of faith. Clara is suffocated by her commute, by her job, by her life. One day, drowning in anxiety, she finally reaches her breaking point. Monday is an experimental film that explores the boundaries of narrative with dance, movement and sound.
---
A PORTRAIT OF A BEAUTIFUL WOMAN


Director Yula Gidron Country Israel Original title Dukana Shel Isha Yafa Language Hebrew Subtitles English Year 2017 Runtime 21 min
Gabi is tired of being 60, the age at which she began to be irrelevant. After an argument shakes up the comfortable routine of her marriage and runs away to wander the streets on a nocturnal journey looking for herself.
---
TICKLE


Director Çağıl Harmandar Country Turkey, USA Original title Gıdık Language English Subtitles English Year 2017 Runtime 2 min

Words frame meaning, bodies frame us.