Silent Movie Night!
PANORA 9 APRIL 18.30
Tickets>>

Katja Kock is about to graduate, but she has nothing to wear for the prom.Her father, the eccentric inventor Carl Axel Kock does not sacrifice much of his income on Katja while her brother Curry gets a new of everything and anything at all times. So when the day of the prom has come, Katja simply dresses up in her brother's brand new evening attire and attends the dance, smoking cigars, drinking brandy, and shocking the locals.
The Girl in Tails is a rare example of a silent film based on clever and
ingenious dialogue that makes some serious feminist points. The film was Swanströms's fourth and last as a director. She continued her career as a character actress, director, and studio executive and was one of the most powerful people in the Swedish film industry during the 1920s and '30s.
The film will be screened on a restored 35mm print with Swedish intertitles accompanied by a live performed cinematic soundscape composed by multi-musician Christine Owman.
Tommy Gustafsson, Professor of Film Studies at Linnaeus University, will begin the evening with an introduction of both the film and Swanström herself.
The screening is presented in collaboration with Cinemateket.

Director: Karin Swanström
Country: Sweden
Year: 1926
Runtime: 114 minutes
Language: Swedish intertitles
Genre: Silent film, comedy, queer
Original title: Flickan i Frack
Cast: Einar Axelsson, Magda Holm, Nils Arehn, Karin Swanström, Kar de Mumma
Screenplay: Hjalmar Bergman, Ivar Johansson
Production: AB Biografernas Filmdepôt
Print Source: Swedish Film Institute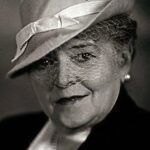 KARIN SWANSTRÖM
Karin Swanström (Sweden) was a director, actress,
and producer. She worked as artistic advisor
and production manager at Sweden's largest
production company, SF (Svensk Filmindustri)
for more than 10 years and played a huge role in
several of the company's main successes during
the 1930s. Karin Swanström passed away in 1942.

CHRISTINE OWMAN
Christine Owman (Sweden) is a musician and
composer, trained cellist and vocalist who also
plays the guitar, bass, piano, ukulele and saw.
Owman has composed and performed music
for the theater, film and television and toured
with a live music concept accompanied by video
projections of films from the early 1900's.