Opening film!
PANORA 4 APRIL 19.00 (Opening mingle in Panora's foyer from 18.00)
Tickets>>
Is also screened: BIOGRAFTEATERN
SCALA Ystad 15 april 19.00
One of Iran's most popular and internationally acclaimed directors
is back with an anthology film as groundbreaking as her previous
works. Rakhshan Bani-E'temad takes us through a Tehran bristling with destinies, poverty, love, despair, drugs, philosophy, prostitution, political activism, bureaucracy and hope creating a tale brimful of poignant warmth and humanity.
Bani-E'temad did not choose to do an anthology film for artistic
reasons but to circumvent the country's tough regulations on feature film production. The seven short films were made separately and only several years later made into the feature film it was meant to be.
As of today, Tales has been screened and awarded at festivals around the world but despite the international success Bani-E'temad states that she makes films for the people of Iran. Would a film be banned in Iran, she would not let it be screened outside the country either.
Director: Rakhshan Bani-E'temad
Country: Iran
Year: 2014
Runtime: 88 minutes
Language: Farsi
Subtitles: English
Genre: Drama
Original title: Ghesse-ha
Cast: Golab Adineh, Saber Abar, Farhad Aslani, Foojan Arefpoor, Bahareh Daneshgar, Mohammadreza Forootan, Shahrokh Forootanian, Babak Hamidian, Mehdi Hashemi, Negar Javaherian, Baran Kosari, Fatemeh Motamedaria, Peiman Moadi, Hassan Majooni, Habib Rezaei, Atefeh Razavi, Mehraveh
Sharifinia, Khosro Shahraz, Rima Raminfar
Screenplay: Rakhshan Bani-E'temad, Farid Mostafavi
Producer: Rakhshan Bani-E'temad
Sales contact: Noori Pictures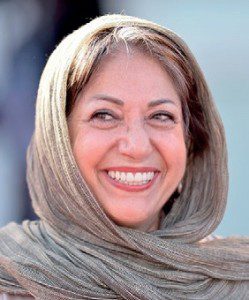 RAKHSHAN BANI-E'TEMAD
Rakhshan Bani-E'temad (Iran) is an internationally and critically acclaimed Iranian film director and screenwriter. She is widely considered Iran's premier female director, and her films have been praised at international festivals as well as being remarkably popular with Iranian critics and audiences. Her title as "First Lady of Iranian Cinema" is not only a reference to her prominence as a filmmaker, but it also connotes her social role of merging politics and family in her work.