15 april 18:00
Biograf Panora
Biljetter>>>
Nina är en ukrainsk språklärare som inte kan lämna sin hemstad på grund av att separatisterna har ockuperat östra Ukraina. Andrii är en student som blev föräldralös som en konsekvens av kriget. Deras vägar korsas när Nina blir vittne till att Andrii arresteras av polisen på grund av en bagatell. Nina förstår att hon måste hjälpa Andrii eftersom de lever i en värld av orättvisa och lögner.
Ett drabbande drama som speglar internationella konflikter på individnivå.
Filmen introduceras av Helena Tomasson, frilansande kulturskribent
och MA i visuell kultur. Hon har sin bakgrund i Ukraina och känner väl till situationen i landet. Efter filmvisningen kommer Helena att via länk intervjua filmens regissör.
Daria Onyshchenko
Ukrainian film director and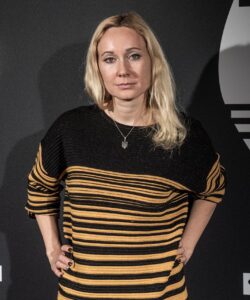 writer, born in 1983. Studies
Communication, PR and
International Journalism
at the Taras Shevchenko
University in Kiyv, BA in Publicand International Relations. Theatre director at the Karpenko Karuj Theatre Institute in Kyiv. She graduated from the University of Television and Film in Munich. Her first feature film, Eastalgia (2014), received many awards at international festivals. The Forgotten (2019) is her second feature.
Original title: Die Vergessenen/Zabuti Director: Daria Onyschenko
Writer: Daria Onyschenko, Claudia Lehmann
Country: Ukraine/Switzerland Year: 2019 Runtime: 105 min
Genre: Drama Language: Russian, Ukrainian Subtitles: English Distr.: Wide Management