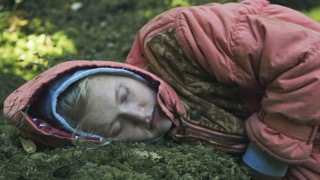 World premiere!
PANORA 6 APRIL 18.30
Screened before DOG LADY
Two free spirits hang about in a forest in
the northern parts of Sweden. When one of
them suddenly disappears and the other one
encounters a hunter who might seem a little
fishy, the story takes off for an exciting venture
of power, fear and prejudices. Who is it that
sets the rules of the game?
Director Sophia Bösch Country Sweden
Original title Troféer Language Swedish
Subtitles English Year 2016 Runtime 12 min

SOPHIA BÖSCH (SWITZERLAND, SWEDEN)
moved to Sweden in 2008 to learn Swedish, her
grandmother's language. She has studied Cinema
Studies, written and directed several shorts and
worked as assistant director on multinational
productions. She is part of the feminist film
collective Lillemor Film, made up of Anna
Warfvinge (producer), Sophia Bösch (director)
and Isabel Herlöfsson (cinematographer).