FOCUS: TURKEY
Director in attendance!
PANORA 8 APRIL 16.00
Tickets>>
Director: Ahu Öztürk Country: Turkey, Germany Year: 2015 Runtime: 99 minutes Language: Turkish, Kurdish Subtitles: English
Genre: Drama
Dust Cloth is the gripping authentic drama revolving around Nesrin
and Hatun, two women, cleaners and mothers, their relationships
with the people whose homes they clean, the conflicts in their daily
lives and their struggles.
Shuttling between the destitution and wealth of the city they try to
understand life and find a way of their own. As Hatun tries to save up
enough money to buy a home in a neighborhood where she cleans
houses, Nesrin struggles with the absence of her husband and her
own loneliness, while also trying to find a way through life with her
five year-old daughter.
Ahu Öztürk's breathtaking debut feature film won best local film,
actress and screenplay honors at the recent Istanbul festival. The
Berlinale-selected drama focusses on the challenges of two mothers
– members of the Kurdish minority in Istanbul. Öztürk takes an
intimate look at the community that's in the epicentre of an ethnic
conflict that dominates Turkish politics today.

Original title: Toz Bezi Cast: Asiye Dinçsoy, Nazan Kesal, Serra Yilmaz, Mehmet Özgür, Didem İnselel, Asel Yalın, Yusuf Ancu Screenplay: Ahu Öztürk Producer: Cigdem Mater, Nesra Gürbüz, Stefan Gieren Sales: Pascale Ramonda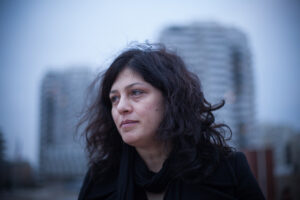 AHU ÖZTÜRK
Ahu Öztürk (Turkey) was born in Istanbul in 1976.
She studied philosophy in Izmir and got a master's
degree in Film and Television at Marmara University
in 2002. In 2004, she directed her first documentary
Chest. In 2010, she participated to Tales from Kars
of Festival on Wheels with her short Open Wound.
Dust Cloth (2015) is her first feature film which
premiered in Berlinale Forum in 2016 and got the
Best Film, Best Actress and Best Script awards in
Istanbul Film Festival in 2016.