PANORA 8 APRIL 18.30
SHORTS & CHAMPAGNE
En ung ghanansk man kämpar för att förena
kärleken till sin mor med sin önskan att i fred
få älska vem han än älskar. Detta samtidigt som
förutsättningarna för samkönade relationer i
Ghana försvåras. Med hjälp av ett trevande brev
försöker mannen hitta in till sig själv, friheten.
Director Akosua Adoma Owusu Country
USA, Ghana Original title Reluctantly
Queer Language English Subtitles English
Year 2016 Runtime 8 min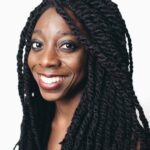 AKOSUA ADOMA OWUSU (USA/GHANA) is
an avant-garde filmmaker and producer whose
films have screened worldwide in prestigious
film festivals, museums, galleries, universities
and microcinemas since 2005. She holds
Master's of Fine Arts degrees in Film & Video
and Fine Art and a Bachelor's degree in Media
Studies and Studio Art. Reluctantly Queer was
nominated for the Golden Bear and Teddy
Award at the Berlinale in 2016.