SPELFILM
11 februari 18.00
Biograf Panora
Biljetter>>>
I ett rörigt nyhetslandskap dominerat av män, träder Indiens enda tidning driven av dalitkvinnor fram. Beväpnade med smartphones bryter chefsreportern Meera och hennes journalister traditioner och omdefinierar vad det är att ha makt, både vad gäller Indiens stora frågor och inom sfären för det egna hemmet. De avslöjar landets extremistiska hinduiska ledarskap och våldtäktskultur och den korruption som frodas och som gör människor utan röst och makt till offer. De undersöker inkompetensen hos den lokala polisen, lyssnar och bistår offren för kastväsendet och könsvåldet och utmanar förlegad praxis som leder till orättvisa och rädsla.
Rintu Thomas and Sushmit Ghosh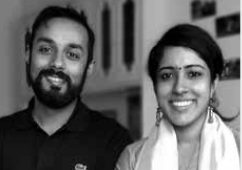 Award-winning director-producers from India whose work has been supported by several prestigious institutes and foundations. In 2009, they founded Black Ticket Films, a production company having a strong eye on social justice stories. They were recognized with a President's Medal in 2012, the highest honor given to filmmakers in India. Their first feature documentary Writing with Fire taking five years to make, has won prices at Sundance festival, the DOK:SØR and IDFA in 2021.
Director: Rintu Thomas, Sushmit Ghosh
Writer: Rintu Thomas, Sushmit Ghosh
Country: India
Year: 2021
Runtime: 93 min
Genre: Documentary
Language: Hindi
Subtitles: English
Distr.: Autlook Films