SPELFILM
12 februari 20.30
Biograf Panora
Biljetter>>>
Yuni är en intelligent tonåring som drömmer om att börja på universitetet, men lever i en kultur där det tas för givet att hon ska bilda familj i stället för att utbilda sig. Två män som hon knappast känner ber att få gifta sig med henne. När hon avböjer sätts det igång skvaller om en myt, som säger att en kvinna som tackar nej till ett frieri tre gånger aldrig kommer att bli gift. Pressen ökar när en tredje man ber om hennes hand. Yuni tvingas välja mellan myten om en sista möjlighet till äktenskap och sin dröm om framtida lycka. 
Kamila Andini is a director, writer, producer and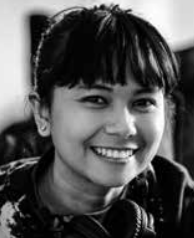 editor born in1986 in Jakarta, Indonesia. She started very young making documentaries. Her first feature film The Mirror Never Lies (2010), travelled to more than 30 festivals around the world and her second film The Seen and Unseen (2018) got several awards. Yuni had its world premiere at Toronto Film Festival in September 2021 and was the winner of the Platform Prize.
Director: Kamila Andini
Writer: Kamila Andini/ Prima Rusdi
Country: Indonesia/Singapore/France/Australia
Year: 2021
Runtime: 95 min
Genre: Drama
Language: Indonesian
Subtitles: English
Distr.: Cercamon