FEATURE FILM
12 february 20.30
Cinema Panora
Tickets>>>
Yuni is a teenage girl, smart, with big dreams of attending university, but raised in a culture where it is natural for a woman to form a family instead of being educated. Two men whom she barely knows ask to marry her. She rejects their proposals arousing gossip about a myth, that a woman who rejects three proposals will never get married. The pressure is increasing when a third man is asking for her hand, and Yuni is forced to choose between the myth of a final chance of marriage, and her dream of future happiness.
Kamila Andini is a director, writer, producer and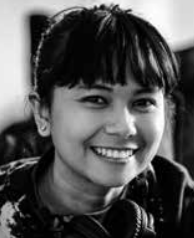 editor born in1986 in Jakarta, Indonesia. She started very young making documentaries. Her first feature film The Mirror Never Lies (2010), travelled to more than 30 festivals around the world and her second film The Seen and Unseen (2018) got several awards. Yuni had its world premiere at Toronto Film Festival in September 2021 and was the winner of the Platform Prize.
Director: Kamila Andini
Writer: Kamila Andini/ Prima Rusdi
Country: Indonesia/Singapore/France/Australia
Year: 2021
Runtime: 95 min
Genre: Drama
Language: Indonesian
Subtitles: English
Distr.: Cercamon