PANORA 3 APRIL 21.15
Tickets>>
Director: Claire Carré Country: Poland, USA Year: 2015 Runtime: 86 minutes Language: English, Spanish Subtitles: None, English
Genre: Sci-fi, Drama
The world as we know it has been forgotten. A decade after a global
epidemic, those who remain suffer from lasting effects of the virus
– retrograde and anterograde amnesia. The survivors navigate a decaying landscape, unable to recall the past or create new memories.
Five interwoven stories each explore a different facet of life without
memory in a future that has no past. Two lovers struggle to stay
together, afraid that if separated, they will forget each other forever.
A boy loses his guardian and searches for a new home beyond the
limits of the city. A violent young man takes what he needs to survive, no matter the cost. A professor researching a cure makes a connection that is not what he expected. And a girl living with her father in an underground bunker safe from the virus must decide whether to risk infection to regain her freedom.
Claire Carré's debut feature is a poetic and thought-provoking scifi
drama, strikingly beautiful and full of compassion.
The screening is presented in collaboration with Biograf Panora / Folkets Bio Malmö.
Original title: Embers Cast: Jason Ritter, Iva Gocheva, Greta Fernández, Tucker Smallwood, Silvan Friedman Screenplay: Claire Carré, Charles Spano Producer: Charles Spano, Claire Carré, Mevlut Akkaya Sales: Chaotic Good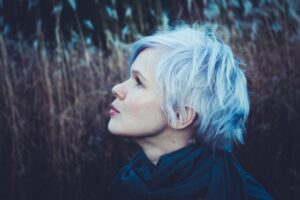 CLAIRE CARRÉ
Claire Carré (USA) is a director, wrier and editor
based in New York. She has received the Alice
Guy-Blaché Award for directing and the Mary
Shelley Award for female science fiction creators,
and is an alumni of the IFP Independent Filmmaker
Labs. Embers is her multi-award winning
debut feature.