FOCUS: TURKEY
Closing film!
PANORA 9 APRIL 20.00
Tickets>>
Director: Ceylan Özgün Özçelik Country: Turkey Year: 2017 Runtime: 94 minutes Language: Turkish Subtitles: English
Genre: Drama, Mystery, Psychological thriller
Hasret works for a Turkish television news channel which prides itself on the ambitious maxim: 'What you see is the truth. What you hear is the truth.' But then, suddenly, things begin to change. Editors are told not to comment on politicians' speeches; the news is manipulated and the use of social networks on internal computers is prohibited. Bullied by her overbearing boss, Hasret soon finds herself without her job as an independent film editor. She withdraws into her flat where she begins to experience hallucinations: she hears voices, the walls move and she sees the curtains on fire. Moreover, she begins to realise that her parents were not killed in a traffic accident twenty years ago but must have died in some other, horrific way.
After the world premiere at Berlin Film Festival and then on to SXSW, it's now time for the Scandinavian premiere here at IFEMA. Ceylan Özgün Özcelik's debut feature is a nightmarish burning question of media censorship and the oblivion generated by a collaboration between the government and mass media – based on a political trauma that has shaken Turkey.
Original title: Kaygı Cast: Algı Eke, Özgür Çevik, Kadir Çermik, Boncuk Yılmaz, Selen Uçer, Asiye Dinçsoy, Saygın Soysal, Taner Birsel, İpek Türktan Kaynak Screenplay: Ceylan Özgün Özçelik Producer: Adnan M. Şapçı, Emre Oskay, Sadık Ekinci, Ceylan Özgün Özçelik Sales: M-appeal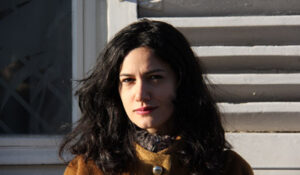 CEYLAN ÖZGÜN ÖZÇELIK
Ceylan Özgün Özçelik (Turkey) studied law at
Marmara University in Istanbul but never practiced
as a lawyer. After working as a writer for television
and a DJ at a radio station, she started to produce,
write and host a TV show about cinema called En
Heyecanlı Yeri in 2003, which aired for almost ten
years. She has also written film reviews for online
and print media. Her short films have screened at
various international festivals. Inflame is her feature
film debut.