FOCUS: TURKEY + Relationsinstitutet
PANORA 8 APRIL 20.15
Tickets>>

Director: Ceyda Torun Country: Turkey, USA Year: 2016 Runtime: 80 minutes Language: Turkish Subtitles: English Genre: Documentary
Tabbies, calicos, angoras, norwegian forest cats; ginger cats, grey cats, black cats, white cats, black and white cats — hundreds of
thousands of Turkish cats roam the metropolis of Istanbul freely, without a human master. For thousands of years they've
wandered in and out of people's lives, becoming an essential part of
the communities that make the city so rich. Claiming no owners, the
cats of Istanbul live between two worlds, neither wild nor tame — and they bring joy and purpose to those people they choose to adopt. In Istanbul, cats are the mirrors to the people, allowing them to reflect on their lives in ways nothing else could.
Critics and internet cats agree — this cat documentary will charm its
way into your heart and home as you fall in love with the cats of Istanbul.
After the screening there will be a conversation on human-animal relationships and cats especially with Simon Ceder from Relationsinsitutet as moderator.
English title: Nine Lives: Cats in Istanbul Producer: Ceyda Torun, Charlie Wuppermann Sales: Termite Films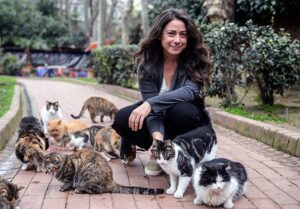 CEYDA TORUN
Ceyda Torun (Turkey), born in Istanbul, spent her
early years among the street cats while her mother
worried she'd get rabies and her sister worried she'd
bring home fleas. Ceyda studied Anthropology
at Boston University, returned to Istanbul to assist
director Reha Erdem, then off to London and finally
she returned to the US and co-founded Termite
Films with cinematographer Charlie Wuppermann.
Kedi is her first feature documentary.