FOCUS: TURKEY
PANORA 7 APRIL 20.00
Tickets>>
Director: Esen Işık Country: Turkey, Switzerland Year: 2015 Runtime: 98 minutes Language: Turkish Subtitles: English Genre: Drama
One day in the metropolis that is Istanbul and a look at three different destinies. Cemo sells paper tissues in the streets in order to support his family. Today, the 10-year-old will finally pluck up the courage to speak to the girl he has long had a crush on. Hayat's marriage has lacked any form of passion since day one. When the first love of her life suddenly makes contact, she agrees to meet him in secret. Ebru works as a prostitute to make ends meet. This beautiful trans woman can attract any man she wants, but the man of her dreams will not stand by her.
On this day, Cemo, Hayat and Ebru are prepared to do everything
it takes to quench their desires. With an attentive eye on the poetry of day-to-day life, Esen Işik's authentic debut feature film is a sensitive yet unfussy tale of love, freedom, violence and a paradoxical Turkish society at the beginning of the 21st century.
Alternative title: The Dog Cast: Beren Tuna, Bariş Atay, Cemal Toktaş, Çağla Akalin, Salih Bademci, Oğuzhan Sancar, Bekir Sevenkan Screenplay: Esen Işık Producer: Brigitte Hofer, Cornelia Seitler, Emrah Gamsizoğlu Sales: Maximage Gmbh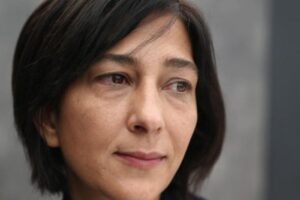 ESEN IŞIK
Esen Işık (Turkey) was born in 1969 in Istanbul.
She has been living in Switzerland since 1990
where she studied Film & Video at Zurich University
of the Arts. She received the Swiss Film Prize
for Best Short Film with The Stolen Father (1999)
and the Swiss Film Prize Quartz for Du&Ich (2012).
Köpek is her first feature film.