PANORA 6 APRIL 20.45
Tickets>>
Director: Sofia Exarchou Country: Greece, Poland Year: 2016 Runtime: 100 minutes Language: Greek, English, Danish
Subtitles: English Genre: Drama
It's not often that a film receives international acclaim even before
its release but Sofia Exarchou's debut feature, Park, is one such
film, firmly placing her in the ranks of Greece's most exciting new
filmmakers.
Gathering in the parched concrete wasteland of Athens' crumbling
Olympic village, a group of teenagers engages daily in boisterous
horseplay. The eldest of them, doe-eyed Anna and timid Dimitri, begin courting and soon become a couple. Coming alive in each other's company, they explore the attractions of a seaside tourist resort with gleeful curiosity and juvenile excitement. Yet with the passing of time, their relationship goes from summery bliss to autumnal anguish, and the impact of the social body on the individual is keenly, painfully felt.
Park is a poetic and raw coming-of-age story and sharp contemplation of the mangled Greek society and at the same time an incredibly touching and subtle story about the young pursuit of freedom, meaning and acknowledgement.
Original title: Park Cast: Dimitris Kitsos, Dimitra Vlagkopoulou, Enuki Gvenatadze, Lena Kitsopoulou, Yorgos Pandeleakis, Thomas Bo Larsen Screenplay: Sofia Exarchou Producer: Amanda Livanou, Christos V. Konstantakopoulos Sales: Stray Dogs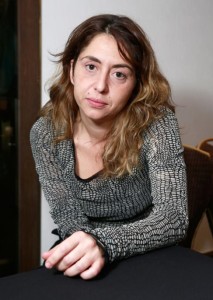 SOFIA EXARCHOU
Sofia Exarchou (Greece) has been working as an
assistant director in feature films and commercials
since 2004. She has written and directed two
short films, Distance (2006) and award-winning
Mesecina (2009). In 2014, she participated in the
Sundance Screenwriters & Directors' Lab. Park is
her first feature film, which has already won multiple
international development awards.