Thursday 16th April, 18.30-20.15, Scala Bio in Båstad. Tickets: Scala Bio
Friday 17th April, 19.00-21.00, Panora, Malmö. Tickets: Kulturcentralen
Sunday 19th April, 19.00-20.45, Panora, Malmö. Tickets: Kulturcentralen
A lesson about right and wrong. Nadezhda is a high school English teacher near Sofia. Stunned by a theft report by one of her students she is determined to find the culprit and punish him. As this episode unravels at work, her personal life changes drastically. She is notified a bailiff that, that the bank is about to seize her house and put it on auction due to overdue mortgage payments. Determined to keep her life afloat and her house she will do everything she can to get the money before it's too late. Her personal and professional life will converge as she goes against all the lessons she teaches her students.
Directors: Kristina Grozeva and Petar Valchanov, Bulgaria/Greece, 2014
Genre: Drama
Running time: 105 min
Speech: Bulgarian
Subtitles: English
Age limit: 15 years
Original title: Urok
Distributor: Wide, France
Cast: Margita Gosheva, Ivan Burnev, Ivan Savov, Andrea Todorova, Stefan Denolyubov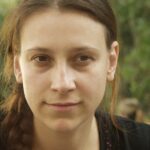 About Kristina Grozeva
Kristina Grozeva, born in Sofia, Bulgaria, 1978. Journalist, writer and director, and among others she have directed the shorts Birds of Heaven (2008) and Gap (2009). She co-directed, with Petar Valchanov, the documentary Parable of Life (2009) and the short film Jump (2012). The Lesson marks her fiction feature debut.
Awards and Festivals – The Lesson
– Toronto IFF 2014 / Contemporary World Cinema section
– San Sebastian IFF 2014 / New Directors section
– Ingmar Bergman Award 2015, for best debut film at Göteborg Film Festival
– Kutxa New Directors' Award at San Sebastian Film Festival
– Special Jury Prize "Bronze Alexander" and Best Screenplay Award at Thessaloniki International Film Festival
– Special Jury Prize at Tokyo International Film Festival
– 1-2 Competition Award at Warsaw Film Festival
– The City of Varna Special Award and the Critics Guild Award at Golden Rose Bulgarian Film Festival
– Award for Best Actress (Margita Gosheva) at Premiers Plans Angers Film Festival
– FIPRESCI Prize at Molodist International Film Festival
– Best Film Award at La Orquidea International Film Festival (Ecuador)