PANORA 10 APRIL 16.00
Screened before THE BABUSHKAS OF CHERNOBYL
Led by the charismatic Kathereh Jalilzadeh,
Iran's first female ninja, a group of women
gathers to engage in the martial arts of ninjutsu.
A sport that is not just about learning to defend
themselves but just as much, if not more, about
freedom and to overcome the prejudices of a
patriarchal society that hold them back.
Director Marjan Riahi Country Iran
Original title Iranian Ninja
Language Farsi, English Subtitles English
Year 2014 Runtime 28 min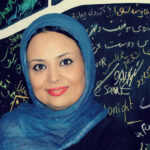 MARJAN RIAHI (IRAN) is a filmmaker, screenwriter
and journalist. She studied communication
and journalism at Azad University. After
graduating in movie directing at the Iranian
Young Cinema Society, she became the founder
and owner of Short Film News, the first news
network on short films and documentaries in
Iran & Asia. Iranian Ninja, which is her first
documentary film, has been screen and awarded
all over the world.